jeudi 1 décembre 2011
If you think that bread is hard to make you should start with baking a focaccia. Focaccias are the equivalent of our french Fougasses. The texture is similar to pizza doughs but thicker and topped with sea salt, herbs and sometimes cheeses or even meat (which, in that case, is a whole meal by itself). It's easy to make and only requires 10 minutes kneading. All you really have to do is wait for the dough to rise. This is a classic rosemary & olives foccacia, nothing fancy. But it's delicious! Perfect as an appetizer, you can dip some slices in olive oil while it's stil warm. For those who loves garlic you can add a crushed garlic clove in the dough to make it even more tasty.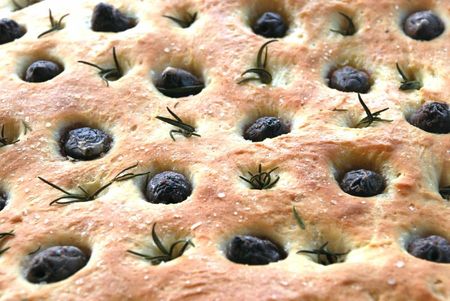 Ingredients:
-1 1/4 cups warm water
- 7g/1 sachet dried yeast
- 2 tsp sugar
- 3 1/2 tbs olive oil
- 3 cups flour
- 2 tsp sea salt flakes
- 1 1/2 tbs fresh rosemary leaves
- 30 pitted kalamata olives
Combine the water, yeast, sugar and 2 tablespoons of oil in a small bowl. Set aside in a warm, place for 10 minutes or until frothy.
Place flour and half of the sea salt in a bowl. Make a well in the centre and pour in yeast mixture. Stir until combined, then use your hands to bring the dough together in the bowl.
Turn onto a lightly floured surface and knead for 10 minutes or until smooth and elastic. Brush a bowl with oil to grease. Place dough in bowl and cover with plastic wrap. Set aside in a warm place for 45 minutes or until doubled in size.
Preheat oven to 200°C. Brush a pan with 2 teaspoons of remaining oil. Punch down centre of the dough with your fist. Turn onto a lightly floured surface and knead for 2 minutes or until dough is elastic and has returned to original size. Press into the prepared pan. Cover with a damp tea towel and set aside in a warm place to prove for 20 minutes or until doubled in height. Use your finger to press dimples into the dough. Brush with remaining oil and sprinkle over rosemary and remaining salt. Press the olives into the dough.
Bake in oven for 25-30 minutes or until golden. Serve warm or at room temperature.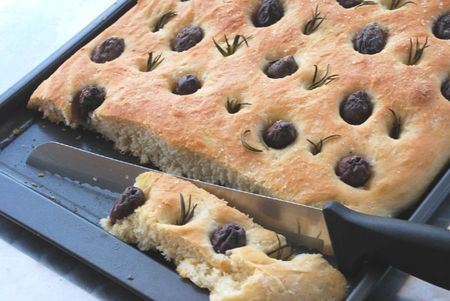 Source : taste.com.au
Commentaires
Poster un commentaire