mercredi 16 novembre 2011
Those cookies, called "galettes bretonnes" are typically french. It's a speciality from Bretagne, a North-west region of France. You can't make them more french : they are full of salted butter. All you need are very basic ingredients but make sure to get a really good butter with Guerande sea salt crystals. That's what make all the difference with basic bland cookies and gives this distinctive nutty, buttery sweet-salty flavor. Don't even consider baking them with margarine.... that would kill any french.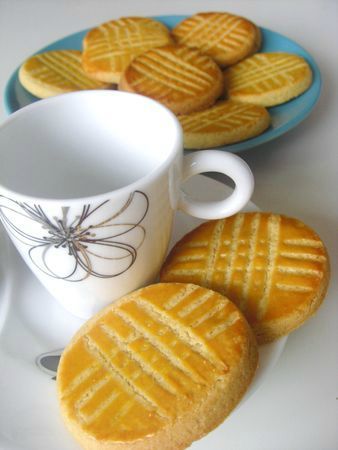 Ingredients :
- 120g sugar
- 200g salted butter
- 2 egg yolks
- 280g flour
- 1 tsp vanilla extract
- another egg yolk to add at the end
Mix the butter and the sugar. Add the 2 egg yolks, the vanilla and the flour. Form into a ball. Line baking sheets with parchment paper. Roll out the dough to about 1cm or so thickness. Cut the dough out into shapes. Place the cookies on the baking sheet. Beat up the extra egg yolk and brush the cookies with it. Let it dry for a few minutes and brush the cookies with some more egg yalk. Draw some lines on top of the cookies with a fork. Bake it for 12 minutes at 180C. Cool on a rack.
Commentaires
Poster un commentaire