jeudi 29 septembre 2011
After a few weeks spent in France, I'm back in Oz! I'm very excited as I had a big crush on this country on my first stay a few months ago in Margaret River. I will now stay in Sydney until Christmas. The only downside is that I'm staying in an appartement-hotel. That means that I will have to cook with very few cooking tools. All I have is a frying pan, a small saucepan, a medium sauce pan and a big knife. I also have a boiler, an oven, a microwave and a toaster.

So my first cooked meal here was last night : a red curry. Curries are really easy to make. You basically just have to cut all the ingredients you like (meat, fish, veggies) fried them in a little bit of oil and curry paste, add some coconut milk, some fresh herbs and serve over some rice. This curry took me just a few minutes to make and I only used 2 saucepans (1 for the rice and one for the curry). I used lebanese eggplants as they are easier to cook and less bitter than regular eggplants. But you can use any type of eggplants you like. Actually you can use any vegetables you like.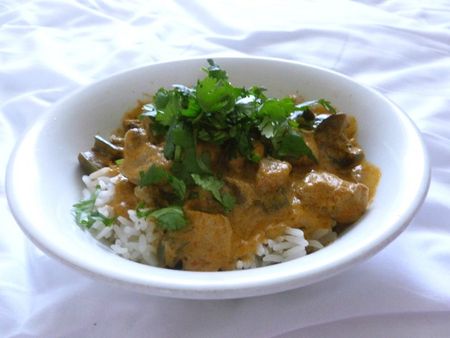 Ingredients:
- 1 chicken breast
- 3 lebanese eggplants
- 1/2 cup of red curry paste
- 1 can of coconut milk
- 1 tablespoon of coconut oil (or any neutral vegetable oil, but avoid olive oil)
- some fresh coriander

Cut the chicken breast in little dices. Slice the eggplants. Heat the oil in a saucepan. Add the curry paste and the chicken and let it cook for a few minutes. Add the sliced eggplants and stir. Let it cook for 2 minutes. Pour the coconut milk, reduce the heat and let it simmer for 15 minutes. Add some chopped coriander in the saucepan and stir.
Serve over rice with some chopped fresh coriander on top.
Commentaires
Poster un commentaire