dimanche 21 août 2011
I love cherries. It's a typical summer fruit that you can only enjoy during a short period, from May to the end of July. Cherries are synonyms of holydays for me. It's a fruit that I've always eaten during summer in my childhood. Except at Christmas : My grandmother used to always gave me a few pounds of (over pricey in winter!) cherries.
Clafoutis is a French dessert from Limousin. It's a flan-like batter with cherries. My mum used to bake some every summer. I remember not being able to wait until it cooled down and eating it straight out of the oven, still burning hot which, of course, would always gave me some stomach ache(I would not recommend to do that!).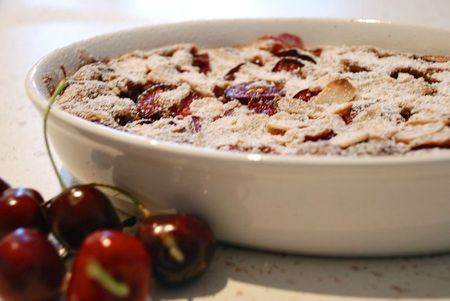 With or without pits is the eternal dilemna. Purrists says that you have to leave the cherries pits so the clafouti would be more flavourful. I personnaly have never noticed a difference and I'm starting to wonder if it's not just an excuse not to have to pit the cherries which is long and fastidious. And as I don't really enjoy biting in pits and then having to spit them out when I eat a clafouti, I prefer to get rid of the pits prior baking but feel free to do whatever you feel like.

This is not the recipe from my mum, so it's a little bit different from the one I used to eat as a kid. I would say that this recipe is a little less rich. Meanwhile, it's a really good recipe. I'll bake my mum's recipe to compare and will post it later on another post.

Ingredients :
- 600g of cherries/600g de Cerises
- 6 eggs/6 oeufs
- 3/4 cups of flour/90g de farine
- 1/2 cup of sugar/100g de sucre
- 1 cup of whole milk/25cl de lait
- some flaked almonds/amandes effilees
- some powdered sugar/sucre glace

Pour the flour in a bowl. Add the eggs and whisk until smooth. Add the milk and the suggar and wisk again.
Dans un saladier, melanger la farine, les oeufs. Battre jusqu'a ce que le melange soit homogene. Ajouter le lait et le sucre. Melanger a nouveau.
Place the cherries in a pie tin sligthly coated with some butter and cover with the batter. Add some flakes almonds on top.
Disposer les cerises dans un plat beurre. Verser la pate sur les cerises. Ajouter quelques amandes effilees sur le dessus.
Bake 35 minutes at 350F
Cuire 35 minutes a 180C
Let the clafouti cool and decorate with some powdered sugar.
Laisser le clafouti refroidir et decorer avec du sucre glace.
Commentaires
Poster un commentaire